Deep Tissue Laser Therapy
Laser therapy in Leland & Shallotte is a fast, painless, and safe treatment for a wide range of conditions. Each treatment typically takes from 5 to 10 minutes, with most patients seeing results after around 3 to 5 sessions.
It works by utilizing your body's own natural healing powers, stimulating cellular activity to reduce inflammation and induce the recovery process. Even though laser therapy sessions are quick, the healing properties it provides you to continue for up to 24 hours afterward.
---
What Are the Benefits of Laser Therapy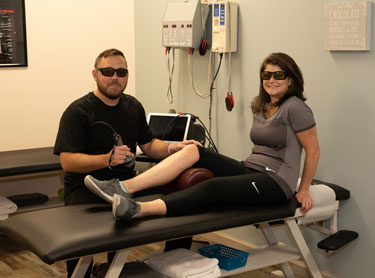 There are a number of reasons why clinicians in North Carolina are using laser therapy to treat soft tissue injuries and other common conditions.
One of its primary benefits is the fact it helps reduce inflammation and pain without any nasty side effects. Because it involves a process called photobiomodulation, whereby cellular metabolism is increased, it doesn't create any unwanted after-effects like other types of medications. Furthermore, many patients report long-lasting pain relief, with some only requiring several treatments to feel these benefits.
Another huge advantage of laser therapy is how each treatment can be tailored to a specific patient and their soft tissue injury. For example, it's important to have a number of different options for delivering the laser therapy so it can be appropriately matched to the patient's requirements. Off-contact treatments are best when treating bony areas, while on-contact massage balls are better for treating deep-tissue structures.
Patients also enjoy the fact that laser therapy feels good, with little or no sensations at all or a slight warmth that feels soothing on their skin. Equally, when patients undergo a massage-ball treatment, they even go as far as saying they enjoy the experience of their laser therapy! And there is, of course, the huge bonus that these treatments are over incredibly quickly so they can be carried out as and when is most convenient with their schedule.
---
Conditions Treated
Hamstring Tears
Carpal Tunnel Syndrome
Shin Splints
Epicondylitis
Plantar Fasciitis
Disc Injuries
Strains & Sprains
Lower Back Pain
Bursitis
Soft Tissue Damage
Patella Femoral Syndrome
And More...
---
Are you suffering from any of these conditions? Then it's time to treat it with laser therapy so you can go back to your day-to-day routine without any pain or discomfort. Call us in Shallotte at (910) 755-5400, or in Leland at (910) 408-1778 to book your appointment today.
---
Athletes Treated with Deep Tissue Laser Therapy